Verizon has been experiencing a widespread outage this afternoon, 2/9/2021, which has made it difficult to access some non-Verizon services, including some servers hosted by HIS, on AT&T.
At 6:30 PM ET, the problem is starting clear, but there are gaps in connectivity from Verizon.
According to https://downdetector.com, the problem is currently affecting Verizon users in DC, NYC and Boston.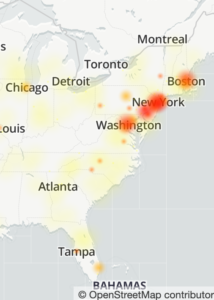 Update: 1 AM 2/10/2021 The situation between Verizon and our facilities stabilized at about 12:05 AM EST 2/10/2021.  We'll be monitoring closely to make sure things stay stable.
Update: 10:50 AM 2/10/2021 The problem reappeared at about 10 AM. Only connections from Verizon are affected, and the symptom is very slow connections at times.  We're working with Verizon and AT&T to diagnose and resolve this.
Update:12:40 PM 2/10/2021 – the Verizon problem cleared at 11:36 AM and has been stable for an hour, with normal connections from Verizon.