Phishing mail from forged address "billing2023@his.com" was received by some his.com mailboxes today, 11/28/2023.  Most phishing messages like this one are blocked by our spam/virus/phishing filters, but some copies of this particular message got through.
The body of the message looks like this, with the HIS logo.  The message came from an IP number in Indonesia.   The "Validate Billing Information" link connects to a site in Peru.  This fake login site is now disabled, but when it was active, the page was designed to look like an official his.com page, and was designed to trick users into entering not just their email addresses and passwords, but credit card and other personal information as well.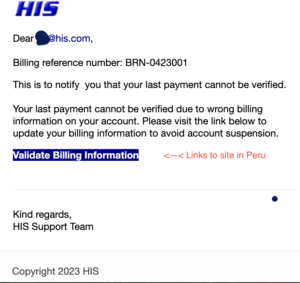 If you received this message and haven't clicked on the links, just delete the message.
If you were tricked into entering your info on this bogus site, change your email password ASAP by logging on to https://webmail.his.com
If you entered your credit card info, call your bank immediately and let them know what happened.